Bradshaw College Consulting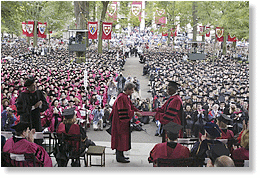 Out of 37,000 high school students applying to Harvard, fewer than 2,000 will be accepted. This is typical for all highly selective schools
You need more than just advice on how to get into the best college, you need an advocate on your side. Gerald Bradshaw, considered one of America's top college consultants, attended Harvard Law School, Class of 1976, University of California Berkeley, Class of 1973.

Mr. Bradshaw, an Ivy League college consultant, understands how to prepare for the application and admissions process. Through one-on-one admissions counseling, Mr. Bradshaw advises college bound applicants on how to prepare an essay and submit an application to the top colleges, universities nationwide.

Did you know that Ivy League schools do NOT base their admissions just on GPA and SAT scores?
Acceptance into the University of Chicago, Massachusetts Institute of Technology, and the University of Pennsylvania for example, consist of specific components, not just good grades and test scores, when presenting a successful admissions packet.

Admission committees at any university will first review an undergraduate grades, and test scores. Secondly these committees will consider your admission essay, all counselors and teacher recommendations, curricula and activities.

These activities may include sports, involvement in humanitarian causes, music, clubs, jobs, and community service.

Gerald Bradshaw will help you research the best school that fits your academic future. He also provides guidance for testing, admissions, and application submission to top Ivy League colleges that include: Harvard, Princeton, MIT, Duke, Yale, Brown, Dartmouth, Northwestern, and Stanford University.

Many applicants strive for top Ivy League colleges like Harvard, Brown, Boston University and Northwestern University. Acceptance into the University of Illinois and University of Texas can be just as rewarding, resulting in impressive careers. Most universities, in the U.S. are first rate, respected institutions. Mr. Bradshaw helps families navigate through the college search and admission process stress free.

Parents who want to give their kids a competitive edge, should consider hiring an educational consultant that specializes in college-level admissions. Call now for answers: 866-687-8129. Read Our Admissions Testimonials
---
The program is customized for each student:

---

PSAT / ACT Test Preparation / SAT Preperation Services
GRE (Graduate Record Examination)
GMAT (Management Admission Test)
LSAT (Law School Admission Test)
Student Faculty Ratio Evaluations / Rankings
video and other resources.

Contact Gerald M. Bradshaw today:

Toll Free: 866-687-8129
Direct: 219-663-3041 Fax: 720-228-9266
Crown Point, Indiana
gerald_bradshaw@post.harvard.edu

Are you an international student wanting to study in the U.S.? Explore select universities that will best suit your educational path. Learn about the TOEFL score requirements, ESL program availability, and costs.

According to the Institute of International Education, 194,000 students at American universities in 2012, were from China.

Parents of freshman applicants should consider hiring Gerald Bradshaw for admission guidance.

Mr. Bradshaw provides one-on-one admissions counseling to international student applying to top U.S. Colleges. Foreign students can get the help they need choosing the schools that best suit his or her academic future.

---

Leadership Program

2019 admission rate:
Top National Universities Harvard, Brown,
Cambridge, Duke, Princeton and Columbia.

PREP SCHOOL PLACEMENT

---
Dreaming of an ivy league education? You Need An Adisor! Gearld Bradshaw one of Americs'a top college counselors can prepare your teen for the application process into schools like Yale, Harvard, or Columbia. Preparing for the SATs, can cause many high schoolers anguish. Shooting for high scores can send a student to the edge.

For many high schools students, making the dream of an ivy league education a reality is is worth the sleepless nights, and long hours of studying for the SAT. Getting into an Ivy League college is highly competative. There are lots of smart kids globally.

According to a Yale admissions officer, Yale could have tossed all its acceptances in the trash and pulled a statistically identical and elite freshman class from the rejected pile. A senior who got into Harvard decribed the process of admissions as schools being asked to choose between two different super heros.

The difference between a Yale candidiate and one who might make the cut at Harvard. The Yale type is overall well rounded -- an A student whos athlete. "A Harvard student is someone Harvard thinks is going to be a leader someday.

According to Harvard's admissions, final admission decisions require a candidate to have WOW factor that sets him or her apart from the other pool of appplicants -- an academic accomplishment, some type of contribution to the humanities or writing, a great performer or composer, or someone who can become a member of Harvard's 41 intercollegiate sport teams. Once academics have been verified, then harvard looks to see how an individuals talents set him or her apart from thousands of other candidiates with the same academic excellance.

Aiming For Ivy League? Hire Bradshaw College Consulting Americas's top college admissions Consultant



Subscribe:
Bradshaw College Consultants


Stay Up To Date, Visit Our Bog!

Follow us on Twitter
Bradshaw College Consulting © 2004 All Rights Reserved